Posted On: 01-07-2016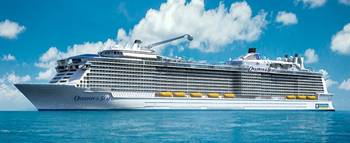 Royal Caribbean christened their third Quantum class cruise ship, Ovation of the Seas, in a ceremony in Tianjin, China.
It is the first time a Royal Caribbean ship has been named in China, and actress Fan Bingbing became the "godmother" for the vessel.

The celebrations culminated with the maritime tradition of breaking a Champagne bottle on the hull of the ship, wishing good fortune on the ship and all passengers who sail on her.

Michael Bayley, Royal Caribbean's president & CEO said "We are excited to bring our newest and most technologically advanced ship to China. Chinese consumers have grown to expect the best the world has to offer, and this ship meets that standard like no other – this is a cruise from the future."

The vessel is one of the largest cruise ships accommodating 4,180 guests at double occupancy and 1,500 international crew members.

Built by Meyer Werft, Ovation of the Seas features energy-efficient systems including optimized hydrodynamics, heat recovery and a hybrid scrubber as well as energy-saving LED lighting systems.